"Bah! You've been reading Yookapedia, haven't you?"
Spoiler warning!
This article contains plot spoilers for Yooka-Laylee.
Developer:
Playtonic Games
Publisher:
Team17
Rating:
10+ ESRB for Comic Mischief and Cartoon Violence
Engine:
Unity Engine
Release date:
Tuesday, April 11, 2017
(Non-Nintendo Switch ports)
Genre:
3-D Platformer
Action-adventure
Collect-a-thon
Modes:
Single-player
Local co-op
Local multi-player
Platforms:
Microsoft Windows
Mac OS X
Linux
PlayStation 4
Xbox One
Nintendo Switch

Media:
Digital download
Physical Release
Yooka-Laylee (formerly codenamed Project Ukulele) is a 3D platformer and action-adventure video game developed by Playtonic Games, comprised mostly of former Rare, Ltd. alumni. The game is the spiritual successor to the Banjo-Kazooie series.[1] The game was released on Tuesday, April 11, 2017 with releases on PC, Xbox One, and PlayStation 4, and was published by Team17.[2] A version for the Nintendo Switch has been confirmed, though the release date is unknown.
This story begins with Yooka and Laylee living in Shipwreck Creek until they discover a magical book that, much to their dismay, is stolen and shredded. The culprit is the dastardly tycoon Capital B, a business baron with a devious scheme to use Dr. Quack's invention, the Noveliser 64, to absorb all of the world's books and have a monopoly over the book industry. However, some one hundred "Pagies" seem to have escaped. So the discordant duo set out to collect the Pagies scattered throughout each world, which when united will reassemble their book.[3]
At EGX Rezzed 2015, Playtonic revealed that the game will be a "huge celebration of 3D platforming games leveraging their experience." There will be sequences within the game where the player collects collectibles, with the main ones being pages called "Pagies." There will be several combos and moves to master alongside "beautifully themed" worlds to not only explore but to expand by collecting Pagies as well.[4]
Characters
Edit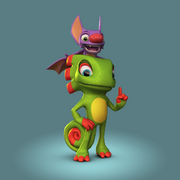 After the first teaser was released, many fans speculated what the silhouettes of the animals were. At EGX Rezzed 2015, the (possibly) two main characters were hidden in a bush in the first hub world screenshot and could only be seen in the version shown at the event, as Playtonic Games tweeted an identical screenshot, but excluding the characters. It was further evidenced that it was them, as Playtonic tweeted the following: "And for everyone asking why we didn't introduce our new heroes today - we did. Didn't you see them?"
[5]
According to a Q&A on Playtonic's website, the characters would have a formal reveal sometime in May.
[6]
 On April 30, Playtonic fully revealed the main characters alongside with their names.
Development
Edit
Mingy Jongo
Edit
In September of 2012, a Twitter account by the name of Mingy Jongo appeared and got the word out that a crew of ex Rareware members (including Grant Kirkhope & Steven Hurst) got together for a Banjo-Tooie Successor. They showed interest in Unity and Kickstarter. Sometime after the announcement of the spiritual successor, the Twitter page went silent.
In April of 2014, Grant Kirkhope on a Reddit post would confirm that the Mingy Jongo project was cancelled. He stated: "The other guys actually had a secret meeting in a pub near Rare and we even got as far as having a character drawn up and a demo level type thing but it all fell to bits .... everyone's got other jobs etc."[7]
Later that year in December, the Mingy Jongo twitter page posted a series of tweets. The three one worded tweets they posted were "Ctrl"[8], "ALT"[9], and "Del",[10] later followed by a tweet in January 2015 "Installing update 0x1D597." Being in hexadecimal form, fans were able to translate 0x1D597 to 120215 which can also be translated to UK date format, reading February 12th, 2015.[11]
On February 9th, Mingy Jongo would post its last tweet before the change, reading "Bzzt. Update Complete. Standby for reboot. Reveal mode engage......."
Playtonic Games Reveal
Edit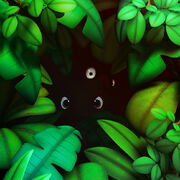 On February 10th, 2015, Mingy Jongo turned into the newly formed company Playtonic Games, which announced a "spiritual successor" to Banjo-Kazooie under the name Project Ukulele. Along with the announcement, they released a teaser image picturing the two unknown protagonists hiding in a bush.[12]

The composers for the game's music were announced days later. David Wise, Steve Burke and fan favorite Grant Kirkhope were confirmed to be on board.[13]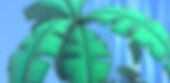 On March 11th, Playtonic Games posted a teaser picture of a palm tree on their Facebook with the caption "Soon... #Rezzed" referring to the reveal of their game at the upcoming EGX Rezzed event.[14]
On March 14th, a few details about the game were revealed at EGX Rezzed, showcasing screenshots of possible hub worlds and announced a Kickstarter to come in May for fans to support the game.[15]
On April 10th, Playtonic Games announced on their Twitter that the Kickstarter would go live on May 1st, 2015.[16]
On April 16, 2015, Playtonic tweeted the following: "Who could be hiding in there? Only 14 days left until you meet the buddy-duo heroes of #ProjectUkulele" with the first teaser image, referring to the launch of the Kickstarter on May 1st, 2015 which will reveal the characters. [17]
On April 30, 2015, Playtonic Games announced the game will be titled Yooka-Laylee, along with revealing the main characters.[18]
Kickstarter
Edit
On May 1st, 2015, the game's official Kickstarter was launched. It passed and surpassed it's goal in less than 30 minutes.
On June 16th, 2015, the Kickstarter was ended and the project successfully raised £2,090,104 with 73,206 backers.[21]
Post-Kickstarter/Pre-E3 Update
Edit
On August 17th, 2015, Karn Bianco and Becky Lavender joined Playtonic Games.[23]
On March 4th, 2016, Simon Gerges and Lee Jackson joined Playtonic Games. [28]
On April 13th, 2016, Playtonic Games announced that Phil Tossell will be helping with the game, but not announced as an official team member.[29]
Raising the Curtain
Edit
On June 6th, 2016, Playtonic Games released the E3 2016 Trailer, and announced that the game was to be delayed until Q1 2017.[40]
On June 15th, 2016, Grant Kirkhope and Steve Mayles were interviewed by Daemon Hatfield from IGN, and revealing first footage of the Toybox[41].
On July 28th, 2016, the Toybox, and Toybox+ was released to backers of the Kickstarter.
On August 16th, 2016 (August 17th, 2016 from Playtonic Games), Playtonic Games released a new Gamescom Trailer.
On December 13th, 2016 Playtonic Games announced that they canceled the game for the Wii U. But they revealed that they are working on a Nintendo Switch release. Backers may also have the option to upgrade to a physical copy or change platforms completely.[42]
On January 4th, 2017, Andy Wilson and Gary Richards joined Playtonic Games.[43]
On January 17th, 2017, a UK PlayStation Magazine was released that talks about Yooka-Laylee, including name updates and other content like Pirate Treasure and new Minigames.
Yooka-Laylee 'Goes Gold'!
Edit
On January 30th, 2017, Playtonic Games announced that Yooka-Laylee has 'Gone Gold', and Kickstarter Backers could change their platforms.[44]
On Saturday, April 1st, 2017, at 3:00 PM 0:00 GMT, Playtonic Games presented the final version of Yooka-Laylee at EGX Rezzed 2017 at the Tobacco Dock in Wapping, London where Playtonic Games showcased worlds, characters, transformations, collectibles, abilities, sounds, music, minigames, etc.[45]
Post-Release
Edit
Yooka-Laylee was released on Tuesday, April 11, 2017 for $39.99 USD. A Nintendo Switch release date is to be announced. A day one patch was released, fixing some of the major bugs that reviewers criticized the game for and removing JonTron's voice due to controversy prior to the game's release.

On Tuesday, June 27, 2017, Playtonic Games released the Spit 'N' Polish Update for Steam users that gives the following features: ability to skip dialogue faster, bypass cutscenes, reduce gibberish voices, camera updates, pause menu music, and additional design polish.
On Monday, September 25, 2017, Playtonic Games released an update claiming that they switched to a new version of Unity 3D 5.6 to fix a bug, but doing this created additional problems. Grant Kirkhope confirmed on Twitter in the comments that even though the orchestral soundtrack was a stretch goal, the orchestral soundtrack has been cancelled. N64 graphics is still on the todo list.
Screenshots
Edit
References
Edit
Ad blocker interference detected!
Wikia is a free-to-use site that makes money from advertising. We have a modified experience for viewers using ad blockers

Wikia is not accessible if you've made further modifications. Remove the custom ad blocker rule(s) and the page will load as expected.