"Erm, Bzzz... Bug detected. Please tell devs they messed up."
Article Incomplete.
This article is either incomplete or needs improvement.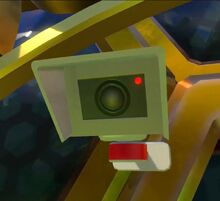 The Security Cameras are objects found around the perimeter of Hivory Towers and Capital Cashino.
The player first encounters a during the beginning of the game, when the duo are found at the main entrance to Hivory Towers. Judging by the quote: "Smile! you're on CCTV!..." These are how Capital B watches Yooka and Laylee from his office building.
Appearance
Edit
The security cameras have a basic design, like any industrial-grade security camera. The device has a shade cover, as well as a small stem with a pivot on the end, so the device can rotate. The main camera lens is found in the middle of the camera. A small red light can be spotted as well, indicating that the camera is operational.
Ad blocker interference detected!
Wikia is a free-to-use site that makes money from advertising. We have a modified experience for viewers using ad blockers

Wikia is not accessible if you've made further modifications. Remove the custom ad blocker rule(s) and the page will load as expected.