"Bah! You've been reading Yookapedia, haven't you?"
Spoiler warning!
This article contains plot spoilers for Yooka-Laylee.
"Erm, Bzzz... Bug detected. Please tell devs they messed up."
Article Incomplete.
This article is either incomplete or needs improvement.

Rampo's Temple is a large structure located on the west side of Tribalstack Tropics, near Duke's Temple. The Tribalstack Canals run through the bottom of the structure. The top of this temple hosts the first boss of Yooka-Laylee: The Great Rampo, which is available after the first world expansion.
Points of Interest
Edit
Collectibles
Edit
Quills
Pre-Expansion
Edit
Rampo's Temple (9): On the way up to the top of Rampo's Temple are 8 Quills, 3 on the first floor, 3 on the second floor, 2 in between the last set of flamethrowers, and 1 on the last slope to the roof.
Top of Rampo's Temple (3): On the very top of Rampo's Temple are 3 Quills on top of a block. However, the player must use the Lizard Leap in order to obtain it. If the world is expanded, the duo can use the poles from Rampo's Bridge to double jump off of it to reach the very top to collect the 3 Quills.
Singular Quill by Rampo's Temple on the Rock (1): On the very west side of Tribalstack Tropics in between Rampo's Temple and the rock border wall is a singular quill on top of a rock.
Rampo's Treasure Chamber Chests (3): Inside of Rampo's Treasure Chamber are three chests, each containing a singular Quill.
Rampo's Temple Corner (2): On the corner back side closest to the border wall of Rampo's Temple are two quills.
Behind Rampo's Temple (2): Behind Rampo's Temple are two Quills against the Temple wall. As the player walks out of the canal out of the backside of the Temple, the quills are to the very right as the player exits the Temple canal.
Other Collectibles
Edit
Other Collectibles
Pirate Treasure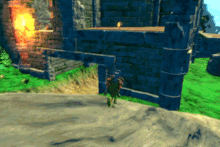 * Found inside of hole in a wall on the back of Rampo's Temple.
Screenshots
Edit
References
Edit
Ad blocker interference detected!
Wikia is a free-to-use site that makes money from advertising. We have a modified experience for viewers using ad blockers

Wikia is not accessible if you've made further modifications. Remove the custom ad blocker rule(s) and the page will load as expected.