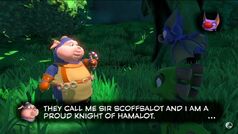 The Knights of Hamalot are a group of four royal pig knights.
Name Origin
Edit
The name "Knights of Hamalot" is a spoof off of the words "Knights of Camelot" and "Ham".
Their goal in Tribalstack Tropics is to search for Rampo's Treasure Chamber. The duo must speak to them in one go to receive a Pagie.
Escort them using the Chopper Form to their desired locations.
They each hold a key.
There is also a level called "Hamalot" from Bubsy 2, but this could just be a coincidence.
Ad blocker interference detected!
Wikia is a free-to-use site that makes money from advertising. We have a modified experience for viewers using ad blockers

Wikia is not accessible if you've made further modifications. Remove the custom ad blocker rule(s) and the page will load as expected.